Quality Pest Elimination For New Haven, CT Properties
If you own a home or business, it's only a matter of time before your property is invaded by insects, rodents, or wildlife. Depending on the specific pest you're dealing with, you may be facing a serious problem. Some pests, like carpenter ants and termites, can cause structural damage to your home. Others, like bed bugs, rodents, and cockroaches, can cause serious health issues. Then you have stinging insects like hornets and wasps that can threaten your safety and put your family at risk, even when outside your home.
The pest control professionals at Connecticut Pest Elimination, LLC offer complete extermination and pest removal services to keep your home or business pest-free all year round. Our team of experts know how to locate and control your pest problem, and we even know how to help you prevent a pest infestation. Whether you're in need of a commercial pest management services or one of our home pest control plans, contact us today to schedule your free estimate in New Haven, CT!
Termite Extermination In New Haven, CT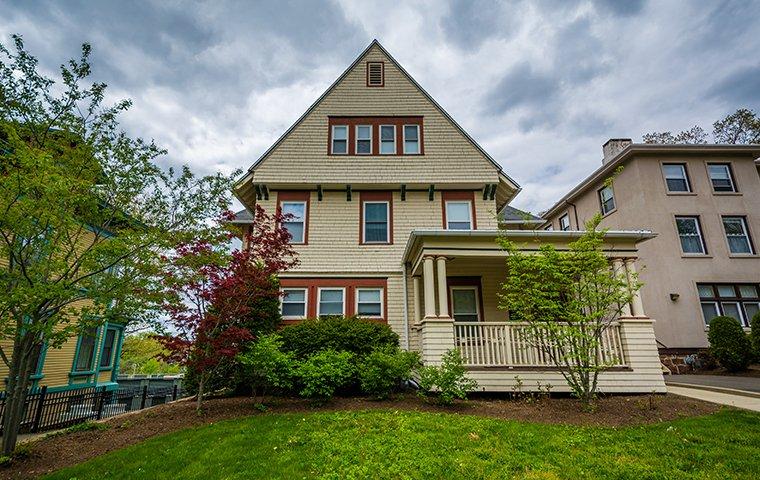 Termites are probably one of the last "guests" that any property owner wants to see. While some pests are more obvious when they invade, termites tend to remain hidden until the damage is already done. Even if you haven't seen termites, they might still be a problem, and quite a major problem at that!
It's estimated that these wood-destroying pests cause around $5 billion in property damage each year. So if you suspect you might have termites then immediately give the professionals here at Connecticut Pest Elimination a call.
Even if you don't have a termite problem, without termite protection, it's only a matter of time before you do. Instead of wondering when that day will come, be sure that it never will by partnering with Connecticut Pest Elimination, LLC.
To control and eliminate your termite problem, we'll inspect your New Haven, CT home or business for termites and, if we find them, treat for them.
Effective Bed Bug Control Services In New Haven, CT
Bed bugs have become an increasing problem for homeowners, renters, business owners, and landlords throughout the United States over the past few years, including here in New Haven, CT. Many people have the misconception that bed bugs are only found in dirty and unclean properties. This is not true! In fact, bed bugs can easily spread from place to place on clothing and luggage without being noticed and hitch a ride into your home or business. Bed bugs have even become a problem for airports and 5-star hotels!
Since these bloodsuckers become a larger problem the longer they are ignored, it's very important that they are addressed by a professional as soon as possible. Connecticut Pest Elimination, LLC has years of experience in dealing with and preventing bed bug problems throughout the state and Mike Lipsett, our owner, is a member of the board for the Connecticut Coalition Against Bed Bugs (CCABB). To learn more about our comprehensive bed bug extermination or to get started, give us a call today!
Industry-Leading Cockroach Extermination In New Haven, CT
While they may not typically bite like bed bugs or damage your home's structure like termites but, cockroaches are still very much a hazard. When you have a cockroach infestation, you run the risks of them contaminating food and spreading harmful bacteria and illnesses. Cockroaches multiply rapidly as well, meaning they can quickly go from a small problem to a widescale infestation. That becomes more of a problem since they can be very difficult to kill. Some have even been known to survive mild nuclear radiation.
However, here at Connecticut Pest Elimination, we use a multi-tactic cockroach control process to get around their infamous immortality. Even large cockroach infestations ultimately fall to our multi-tactic approach to cockroach extermination. To learn more about our cockroach control methods or to get started, contact us today!
Humane Animal Control & Wildlife Removal For New Haven, CT
Sometimes our four-legged neighbors begin to encroach on our property, and this can present big problems for homeowners in New Haven, CT. When raccoons make their way into your trash can looking for food, squirrels get into your birdfeeders, or groundhogs build tunnels that destroy your yard and gardens, they can become a huge nuisance.
Finding ways to keep these wild animals out of your property may end up proving much more difficult without the proper tools and training. Our experts know how to locate the hotspots for common wildlife invaders and understand their behavior enough to set traps and capture them without causing them any harm. Afterward, we'll relocate them far enough away from your property so that they won't find their way back and will live in peace away from humans. To get started with our wildlife control services, give us a call!
Free Pest Control Estimates In New Haven, CT
Whether it's termites, bed bugs, stinging insects, cockroaches, or some other creature or insect that's causing you trouble, you can count on Connecticut Pest Elimination, LLC to take care of your pest problem. We can remove your current pest invaders and help you prevent future pest infestations. Just reach out to us at Connecticut Pest Elimination!
We also exterminate and remove:
Carpenter Ants

Carpenter Bees

Centipedes

Earwigs

Millipedes
Rodents

Stink Bugs

Ticks

Wasps
Woodchucks

Gophers

Opossums
Pigeons

Squirrels

Raccoons

Snakes
Do you need a dangerous, damaging, or nuisance pests eliminated from your home or business or an animal removed to keep your property safe? Connecticut Pest Elimination, Inc is the answer to all your pest control worries. Give us a call today or contact us online to schedule your free estimate in Milford, CT!
Request Your Free Quote
Complete the form below to get your free quote.

-