3/8 of an inch? Check. Creamy white colored? Check. Able to cause over five billion dollars' worth of household damages each year? Double check. Termites and New Haven properties have been two peas in a pod for hundreds of years. Not only are termites active all year round, but their reproductive season is right around the corner, putting you and your family in danger.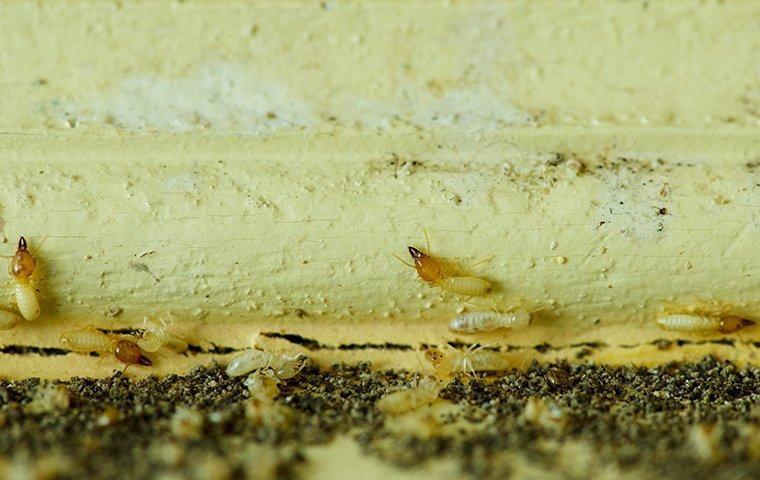 Signs of termite activity around your New Haven property are easy to spot:
Tight-fitting doors & windows

Soft-clicking noises from walls

Frass piles or sawdust

Strange 'water damage' marks on ceilings

Sagging walls or floors
If one or more of these symptoms are present in the home, you will need to speak with a professional pest control team as soon as possible.
No Infestation? Get 'Round To Prevention!
So your home doesn't show any sign of a termite infestation. Great! Keeping your home safe and termite-free is the first step towards keeping pests out for good. However, this piece of good news does not mean you are allowed to let your guard down. All New Haven property owners should enact the following prevention steps in their spring cleaning schedules:
Remove any soil to wood contact present about the home. This especially includes landscaping mulch and decorative wooden lawn ornaments. Replace mulching with pea stone or river rock for a classy, termite-proof look. Use aluminum or glass yard ornaments in place of wooden structures.

Run a dehumidifier in problem areas of the house, paying special attention to bathrooms, kitchens, and basements. Don't be afraid to invest in a high-quality machine for high-quality results!

Professional protection is absolutely vital for homeowners in the New Haven area. Baseboards, new construction wood, and other tempting termite tidbits could draw an unappealing crowd in the form of drywood, subterranean, or dampwood termites. Protect those through professional efforts you can trust.
Unfortunately, your theories of a pest-free home are just that: theories. It is important to note that some signs of termite activity can only be detected through professional means. If you are interested in having your home professionally inspected for termite activity, please reach out to Connecticut Pest Elimination at your earliest convenience.
Controlling Pests With Connecticut Pest Elimination
The signs of termite infestations are both serious and quite obvious once you begin to look for them. If they become apparent in your home, the time for termite prevention will be long over. Waiting to see what happens or attempting to purchase do it yourself (DIY) treatment options may seem like a great idea at the time, but will likely not affect or even worsen your current infestation. Don't waste time, money, or stress on something you simply cannot handle on your own. Instead, call the termite pros at Connecticut Pest Elimination.

With two and a half decades of experience clocked in our books, the team at Connecticut Pest Elimination has never faced anything we couldn't handle. From ants to wildlife, bed bugs to termites, our crew has systematically cut down pest populations in the safest and most effective methods possible. We pride ourselves on hard work that makes even the most difficult of pests run for cover, and are passionate about delivering excellent results and outstanding customer services.

If you have recognized a termite infestation around any area of your home, you'll need to act fast. Call, click, or schedule an in-person appointment with a service agent from Connecticut Pest Elimination right away. We aren't just the right choice, we're the best choice for termite prevention, elimination, and beyond. Enjoy a happy, healthy, and pest-free home by getting in contact with Connecticut Pest Elimination right now.