Bed Bug Elimination For The State Of Connecticut
Few things can make you squirm as much as wondering if bugs are crawling all over your body while you sleep. If bed bugs have infested your Connecticut home or business, that's likely what is happening. Bed bugs love to travel from place to place, and because infestations have become a growing problem in recent years, it's relatively easy to end up with them in your residential or commercial building. Put an end to these biting pests with New Haven bed bug control services from Connecticut Pest Elimination, LLC.
Our Bed Bug Control Process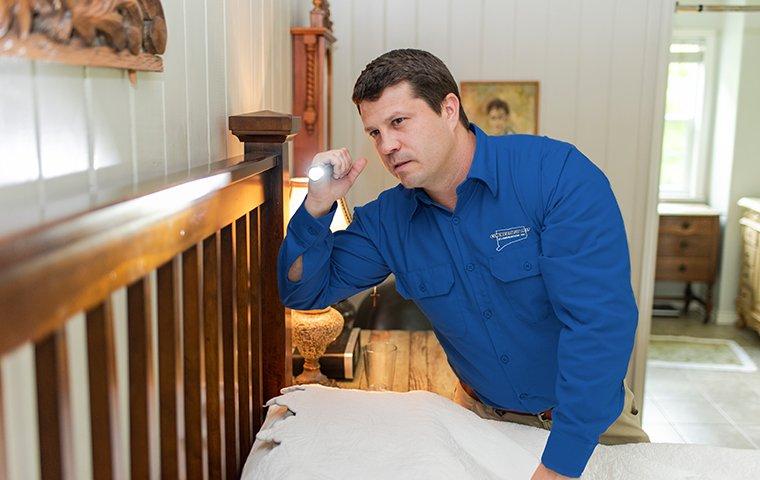 Our quality bed bug control process starts with a thorough inspection of your building, followed by an initial treatment, then follow-up treatments as needed.
Thorough Bed Bug Inspections
We begin our process with a thorough inspection to determine if bed bugs are in your home or business, and if so, how bad the infestation has become. One of our service technicians will inspect all the areas where bed bug activity is most likely to occur, including mattresses, box springs, sofas, electrical outlets, and more. Not only do we look for the bed bugs themselves, but also other signs of their presence such as excrement, bed bug casings, and bloodstains.
Initial Bed Bug Control Treatment
Before the first treatment, we'll give you a bed bug prep list. This contains items to prepare for treatment that need to be completed prior to our arrival. During the first service, we'll use a liquid treatment on mattresses, box springs, sofas, baseboards, electrical outlets, end tables, and more around the whole house.
Follow-Up Treatments
After the initial treatment has been completed, we will return in one to two weeks to provide your first follow-up treatment. This treatment will follow the same protocol as the initial treatment. We'll then return one to two weeks after that to provide another bed bug treatment. During this visit, our service technician will also inspect for any signs of bed bug activity. If we don't find any activity, we'll return in 30 days to reinspect. If bed bug activity is discovered at this point, we will re-treat again.
Sleep Easy By Saying Goodbye To Bed Bugs!
Bed bugs not only leave you with itchy bites; they steal your peace of mind. Get back your restful nights with the help of Connecticut Pest Elimination. Our bed bug control is thorough and effective at eliminating every bed bug in your home or commercial property. We provide our professional home pest control and commercial bed bug exterminator services for Fairfield County, Hartford County, Litchfield County, Middlesex County, New Haven County, New London County, Tolland County, and Windham County. Contact us to schedule an inspection!
Request Your Free Quote
Complete the form below to get your free quote.