Tick Prevention and Extermination in Danbury & Stamford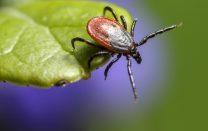 Ticks are a menace in the warmer months. They carry dangerous diseases that, if not found right away, can require constant treatment.
Expert tick control methods in CT
Despite their size, ticks may be one of the most dangerous pests you will encounter. Ticks feed off of the blood of unsuspecting mammals that they are able to latch onto and their bites can have deadly consequences. Some people report a mild irritation from tick bites, some others experience fevers, but even worse than that is the fact that ticks can transmit diseases such as Rocky Mountain spotted fever and Lyme disease. Both of these illnesses can be fatal if left untreated.
If you live in a wooded or grassy area, you may have ticks living on your property. Don't risk the health of your family and pets by risking exposure to these harmful parasites. The experts at Connecticut Pest Elimination, Inc can help you control the population of ticks on your property and help prevent any major problems.. Give us a call today at 1-844-882-0554 or click below to schedule your free estimate for tick control and extermination in Danbury, New Haven, Norwalk, Stamford, and nearby!
Avoiding ticks off your property
Sometimes you will be off your own property and not be able to rely on tick prevention or control techniques. However, there are still some things you can do to avoid ticks or find them quickly enough that you can avoid serious issues. Here are some tips:
Avoid wooded and bushy areas with high grass and leaf litter.
Walk in the center of trails.
Use a repellent that contains 20 percent or more DEET, picaridin, or IR3535 on exposed skin for protection that lasts several hours.

Always follow product instructions. Parents should apply this product to their children, avoiding hands, eyes, and mouth.

Use products that contain permethrin on clothing. Treat clothing and gear, such as boots, pants, socks, and tents with products containing 0.5% permethrin. It remains protective through several washings. Pre-treated clothing is available and may be protective longer.
The Environmental Protection Agency (EPA) has an online tool to help you select the repellent that is best for you and your family.
Bathe or shower as soon as possible after coming indoors (preferably within two hours) to wash off and more easily find ticks that are crawling on you.
Conduct a full-body tick check using a hand-held or full-length mirror to view all parts of your body upon return from tick-infested areas. Parents should check their children for ticks under the arms, in and around the ears, inside the belly button, behind the knees, between the legs, around the waist, and especially in their hair.
Examine gear and pets. Ticks can ride into the home on clothing and pets and then attach to a person later, so carefully examine pets, coats, and day packs.
Tumble dry clothes in a dryer on high heat for 10 minutes to kill ticks on dry clothing after you come indoors.

If the clothes are damp, additional time may be needed.
If the clothes require washing first, hot water is recommended. Cold and medium temperature water will not kill ticks effectively. If the clothes cannot be washed in hot water, tumble dry on low heat for 90 minutes or high heat for 60 minutes. The clothes should be warm and completely dry.
Solutions
Here at Connecticut Pest Elimination, Inc, there are some other ways to protect your property from ticks that we can help you with.
Apply pesticides outdoors to control ticks
Use of acaricides (tick pesticides) can reduce the number of ticks in treated areas of your yard. However, you should not rely on spraying to reduce your risk of infection.
If you have health concerns about applying acaricides:
Check with local health or agricultural officials about the best time to apply acaricide in your area.
Identify rules and regulations related to pesticide applications on residential properties (Environmental Protection Agency and your state determine the availability of pesticides).
Consider using a professional pesticide company, like Connecticut Pest Elimination, Inc, to apply pesticides at your home.
Create a tick-safe zone to reduce ticks in the yard
The Connecticut Agricultural Experiment Station has developed a comprehensive Tick Management Handbook[PDF – 8.53 MB] for preventing tick bites. Here are some simple landscaping techniques that can help reduce tick populations:
Remove leaf litter.
Clear tall grasses and brush around homes and at the edge of lawns.
Place a 3-ft wide barrier of wood chips or gravel between lawns and wooded areas to restrict tick migration into recreational areas.
Mow the lawn frequently.
Stack wood neatly and in a dry area (discourages rodents).
Keep playground equipment, decks, and patios away from yard edges and trees.
Discourage unwelcome animals (such as deer, raccoons, and stray dogs) from entering your yard by constructing fences.
Remove old furniture, mattresses, or trash from the yard that may give ticks a place to hide.
Tick extermination and removal contractor in Connecticut
Don't risk having ticks on your property. Connecticut Pest Elimination, Inc can help you control or eliminate tick populations on your property and keep it safe. Give us a call at 1-844-882-0554 or contact us online to schedule your free estimate in Stratford, Fairfield, Greenwich, West Hartford, Hamden, Meriden, Orange, and close by or learn about our other pest removal services!
Looking for a price? Get a no cost, no obligation free estimate.