Termite Extermination in Danbury and all of CT
Controlling your termite problems in Stamford and Norwalk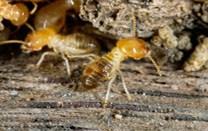 Termites are perhaps the most problematic pest any property owner can face as they are hard to locate and can cause incredible damage to your home or businesses by eating through the wood.
Termites perform an essential role in nature, but they have no role in your home.
One factor that makes termites a problem is their ability to remain undetected as they hide behind wallboards siding or wood trim. You could have millions of them in your home without realizing they are even there.
That's why you need the talented and experienced pros at Connecticut Pest Elimination, Inc. With years of experience, we know just how to find termites and then remove them. If you have or suspect you have, termites then don't hesitate and risk extensive and expensive damage. Give us a call immediately or click below to schedule your free estimate for termite services in Norwalk, Stamford, New Haven, Danbury!
Termite information
Eastern subterranean termites are probably the most common type of termite found in Connecticut.
Most termites are white or light colored. However, the swarmers that homeowners often see are dark brown to black.
Termites tend to hate light and strongly attempt to avoid it. When exposed to light they quickly try to scurry away.
Termites are absolutely ancient insects. Their fossilized remains have been found in formations some 55 million years ago, and to this day their diet has consisted solely of wood and cellulose materials.
Termites are social insects that live in large, underground colonies. In homes, this tends to translate to colonies in your walls and behind your siding. They also reproduce with incredible speed.
In nature, they are an essential part of our ecological systems by speeding up the natural cycle of deterioration. They break down dead trees and other wood materials that would otherwise accumulate. This breakdown process recycles wood into humus, which provides nutrients for plants and increases the ability of soil to retain water so that new life can begin. However, this is not particularly helpful when it's happening in your home.
Photo Gallery
Signs of a termite infestation
Dead Termites or wings around windows, doors, heating vents, or in bathtubs.
Termite mud tubes on walls located outside or inside the structure. They usually look like their name – a tube of mud.
Damaged wood – Termites eat from the inside of the wood out, so damaged wood is sometimes difficult to detect.
Live termites – Termites are sometimes found while doing some remodeling or repair. Worker termites are small, whitish insects that move quickly away when exposed to light. However, swarmers are more common outside the nest.
Our termite inspections and solutions
We'll start every termite job with a thorough inspection of your home. This inspection will be personally done by Michael J. Lipsett, our owner, and an expert on all things termites. Our inspectors are licensed by the State of Connecticut and have performed thousands of wood destroying insect inspections. All termite inspections are written up on a "Wood Destroying Insect Infestation Inspection Report" NPMA-33 Form. This report is required for all FHA/VA loans.
If we find evidence of termites in your home then we can begin our termite extermination process. While different pest management companies will try to sell you various methods of controlling termites, here at Connecticut Pest Elimination, Inc we only use, Termidor® which is the #1 termite elimination and defense product in the United States. We'll continue application until the termite infestation is gone.
All of our termite work comes with a transferable guarantee, though the length varies depending on the structure. Unlike other companies, prior to the initial guarantee expiration, the homeowner will receive a termite guarantee extension that will include a re-inspection of the property and treated areas. If new termite evidence is found, we will, of course, re-treat the structure at no additional cost. This termite protection renewal is also transferable in the case of new ownership.
Products
Termidor is a leading termite solution developed by BASF. BASF has continually been a pioneer and innovator in the development and use of chemicals since 1865. Termidor adheres to their standards for excellence and is a favorite of pest control professionals everywhere.
Termidor is the trusted termite removal choice of many pest control specialists. It is particularly effective against native subterranean termites, Formosan termites, and drywood termites through its use of a nonrepellent or "undetectable" liquid technology.
Termites are unable to detect Termidor with any of their senses and thus will either consume, ingest, or simply contact the liquid and eventually die to it. However, before an infected termite dies it becomes a carrier and can spread Termidor to other termites that it comes into contact with.
This unique approach to termite removal has made Termidor prove incredibly effective at both eliminating termites and preventing future infestations. Considering the billions of dollars in damage that termites cause every year, Termidor saves many home and business owners a great deal of money.
Get rid of termites in your home with Connecticut Pest Elimination, Inc!
If you suspect you have termites then don't wait until it's too late to get your home inspected. Our expert termite inspectors can thoroughly inspect your home and find out if you have any traces of the bugs remaining in your home. If you do then we'll make sure they're soon gone for good. Contact us today to learn more about our pest removal services and schedule your free estimate in Fairfield, Greenwich, Orange, Stratford, Hamden, Meriden, West Hartford!
Looking for a price? Get a no cost, no obligation free estimate.