Stink Bug Control and Extermination in Stamford & Danbury
Connecticut Pest Elimination, Inc is Norwalk's trusted stink bug specialists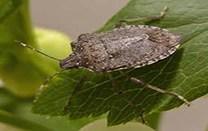 Stink bugs can be a real nuisance to homeowners and their foul odor can make a home a far less pleasant place to live.
Unlike some other pests, stink bugs are not harmful to humans or homes. However, stink bugs are an incredible nuisance and fly noisily about the home startling residents. Glands between their legs emit a pungent, foul odor that gives them their name, and when crushed it gets much stronger. Sometimes they also die in light fixtures and other corners where they release this pungent odor and fill the room with an awful smell.
Do you have stink bugs in your home? The experts at Connecticut Pest Elimination, Inc can help you get rid of them before they get out of control. Give us a call today at 1-844-882-0554 or click below to schedule your free estimate for stink bug removal and extermination in Danbury, New Haven, Norwalk, Stamford, and all of CT!
Stink bug facts
Adults are approximately 5/8ths inch (16 mm) long with various shades of brown on both the upper and lower body surfaces. They are "shield" shaped with gray, off-white, black, copper and blueish markings.
The Brown Marmorated Stink Bug is an agricultural pest and feeds on fruit, vegetables and farm crops. It is native to China, Japan, Korea and Taiwan and was most likely introduced on shipping crates to the United States.
Officially it was first collected in September of 1998 in Allentown, PA and it is currently prevalent in the Mid-Atlantic region, where it cycles through one generation per year.
Adults will emerge sometime in the spring (late April to mid-May), and mate and deposit eggs from May through August. The eggs hatch into small black and red nymphs that go through five molts. Adults begin to search for overwintering sites starting in September through the first half of October. It is best to treat them around this time so that they don't establish themselves in your home.
The pest itself isn't harmful but it is a nuisance to homeowners in the fall as it searches for protected overwintering sites. People will often become alarmed when these bugs enter their homes and noisily fly about. The stink bug does not reproduce inside structures or cause damage, but when crushed they will release a pungent odor that smells like cilantro.
This insect will pierce a fruit's outer surface and suck out juices while injecting saliva. This damaged fruit is then not sellable but it is not poisonous. The suction and saliva create a dimpling of the fruit's surface, and rotting and corking of the flesh underneath.
Stink bug extermination and removal contractor in Connecticut
While it is impossible to absolutely eliminate stink bugs from the complete area around your home, the experts at Connecticut Pest Elimination, Inc can help you remove stink bugs from your home and control the surrounding population. Give us a call at 1-844-882-0554 or contact us online to schedule your free estimate in Greenwich, Fairfield, Stratford, Orange, West Hartford, Hamden, Meriden or learn about our other pest removal services!
Looking for a price? Get a no cost, no obligation free estimate.