Protecting Homes near Norwalk and Greenwich from Bed Bugs
Connecticut Pest Elimination, Inc are the bed bug extermination experts that you need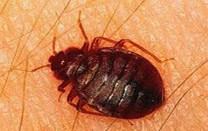 Bedbugs can be extremely hard to spot invaders in your home.
Bed bugs are a major pest that can easily be a nuisance in your home. Bed bugs are far more common than you might imagine and can easily spread to your home (or to the homes of others) by hitching rides on clothing and other personal items.
Despite popular belief, bed bugs do not discriminate on cleanliness or economic basis. Any home could have them as they can easily be picked up at hotels or even during flights. The only reliable way to get rid of bed bugs once they're in your home is with a professional team using all the right equipment. However, there's no need to panic just yet as Connecticut Pest Elimination, Inc offers the comprehensive bed bug extermination and removal that you need.
Our team of professionals has years of experience dealing with problems like yours and we use many of the latest bed bug extermination techniques to solve your problems. Our owner, Mike Lipsett, is also on the board of the Connecticut Coalition Against Bed Bugs (CCABB). Don't let the problem grow worse! Contact the bed bug extermination pros in Stamford, Norwalk, Danbury, New Haven, and throughout CT today to schedule your free estimate!
Bed bug facts
Bed bugs are also referred to as "red coats", "chinches", and "mahogany flats". They are reddish-brown or brown in color and range in size from 1/4″ to 3/8th ". The adult bed bug is a wingless insect that is flattened from top to bottom.
Bed bugs are blood-feeding parasites of humans, poultry, bats and occasionally domestic animals. They feed principally on human blood, piercing the skin with a long beak and sucking blood into their stomachs. They are usually active and feed during the night, but they will feed during the day when hungry.
Bed bugs have never been implicated in the spread of disease to humans.
Bed bugs hide in cracks and crevices in walls, furniture, behind loose wallpaper, wall paneling, picture frames and under carpeting. They will also hide in tufts, seams, and folds of mattresses, pillows and bed coverings.
Female bed bugs deposit 3 to 8 eggs per day. A total of 200-500 eggs can be produced by each female. Eggs hatch in 4 to 12 days. Newly hatched nymphs begin to feed immediately. There are five nymphal stages, and it usually takes 35 to 48 days for nymphs to mature.
Adult bed bugs can survive for up to one year without a blood meal
Bed bugs will readily travel 10-15 feet and have been observed to travel more than 100 feet from their established harborage (and back) to feed on a host.
Multi-unit housing bed bug extermination
Bed bugs are one of the most difficult pests to control and spread quickly. This makes them especially worrying in multi-unit housing. When trying to exterminate bed bugs from multi-unit housing often any nearby units will need to be inspected in addition to the actual housing unit in question. Additionally, bedbug extermination may require multiple treatments, especially in a large area, to fully eliminate all traces of the insects and it is important to start these treatments quickly.
The pros at Connecticut Pest Elimination, Inc are well versed in exterminating bed bugs in multi-unit housing and can help guide you through the process. If you suspect any unit is infested then call us immediately so we can help you solve this problem before it's too late.
If you need our services then please read:
Bed bug extermination pros in CT
Are you concerned about bed bugs in your home? Don't let them spread. Connecticut Pest Elimination, Inc offers comprehensive bed bug extermination services in Connecticut as well as other pest removal services. Contact our experts today at 1-844-882-0554 or online to schedule your free estimate! We serve Stratford, Fairfield, Greenwich, West Hartford, Hamden, Meriden, Orange, and close by!
Looking for a price? Get a no cost, no obligation free estimate.