Bird Control
Connecticut Pest Elimination, Inc can humanely prevent birds from being a nuisance on your property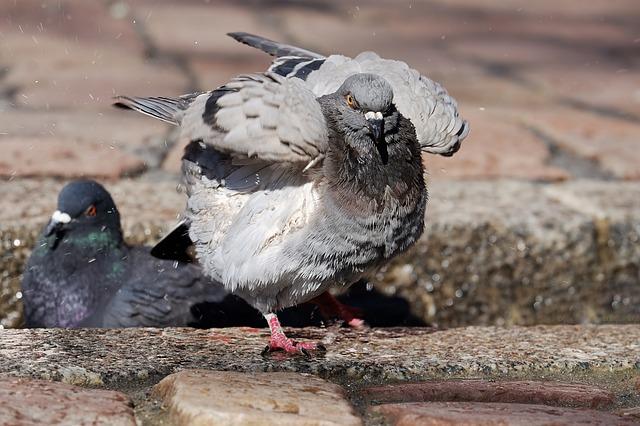 Pigeons are extremely common birds that can often prove a nuisance for property owners. Connecticut Pest Elimination, Inc can help you discourage them from causing problems on your property.
Birds are a very important part of any ecosystem and can be useful in a variety of ways. From an ecological perspective, they serve a vital role in the ecosystem by eating insects and other small critters. Often these insects and other creatures are pests, which of course also benefits the property owner. Many birds are also a pleasant sight to behold and can fill the air with beautiful song. However, not all birds are so helpful.
Certain birds are not great for your property and are an active hindrance that can cause damage to your property, spread disease, and eat food (if you have a garden). In particular pigeons, starlings, and sparrows can be a major problem for any property owner. If these birds are being a problem for you then there is only one possible solution: professional bird control.
Connecticut Pest Elimination, Inc can offer just the bird control services you need. We have a variety of bird control methods at our disposal including trapping and exclusion work. Our expert team can take a look at your property and quickly determine the best solution for your property. We're always careful to try not to harm the birds with our bird control services. Call us at 1-844-882-0554 or contact us online today to schedule your free estimate.
Common birds we control and the problems they produce
Starlings
Sparrows
Pigeons
These birds are the most common offenders and can have a variety of detrimental effects on your property. Some common issues include:
Feeding on agricultural products
Roosting or nesting around human habitations
Destroying vegetation and contaminating foods
Noise, droppings, odor, and feathers
Spreading diseases or ectoparasites affecting man including histoplasmosis and cryptococcosis
Creating unpleasant or hazardous working conditions
Our Bird Control Process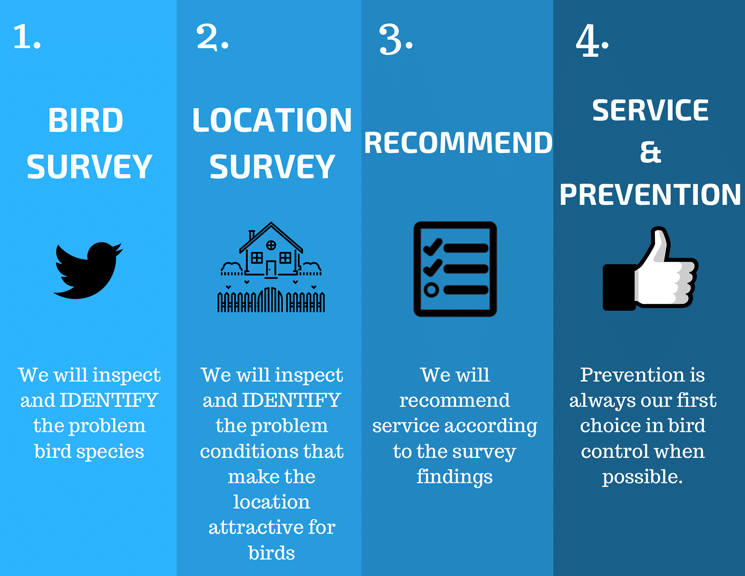 What can you do?
If you want effective bird control then you need the help of the experts at Connecticut Pest Elimination, Inc. We can quickly and thoroughly control problematic birds and keep them from being a nuisance to your property. However, there are a few things you can do too to help and make sure they stay in check. You can read about them here.
Woodpeckers are unfortunately one of the few birds that we do not remove. However, there are several things you can do on your own which you can read about here.
Control pest birds with Connecticut Pest Elimination, Inc
If certain birds are proving a problem for your property then look no further than Connecticut Pest Elimination, Inc. We offer comprehensive bird control services and can help make your home peaceful again. We also offer comprehensive animal removal services if you have a different sort of creature causing problems. Give us a call at 1-844-882-0554 or contact us online to schedule your free estimate in Connecticut!
Looking for a price? Get a no cost, no obligation free estimate.